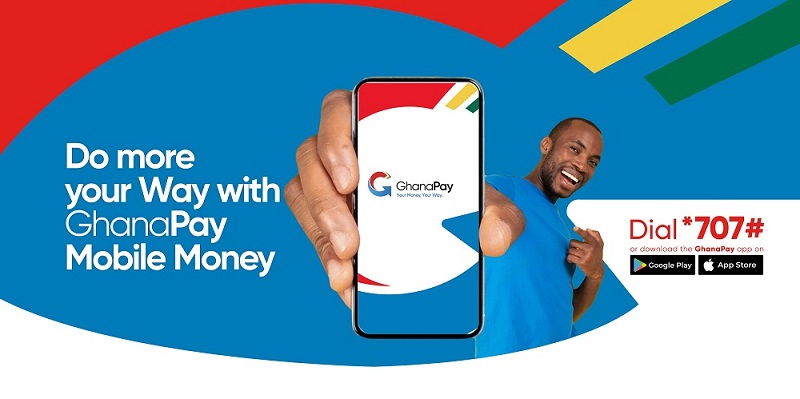 GhanaPay Mobile Money service was introduced in June 2022 by the Ghana Association of Banks in collaboration with GhIPSS. This collaboration means that customers can register for GhanaPay Mobile Money and decide which financial institution they wish to own a wallet with. Essentially, GhanaPay Mobile Money gives customers the opportunity to have a direct relationship with a bank as mobile money users. Anyone with access to a mobile phone in Ghana can register for a GhanaPay mobile money wallet, with or without a bank account.
GhanaPay Mobile Money allows customers to perform all the traditional mobile money services in addition to other banking services. Transactions performed on GhanaPay Mobile Money come at no transaction fees to customers. The only applicable charge for GhanaPay transactions is the mandatory electronic levy fee. GhanaPay is accessible via a *707# USSD code or the GhanaPay App, which is available on the Google Play store and the iOS app store.
Since its inception, GhanaPay mobile money has garnered a significant following due to its numerous advantages and service functionalities.
The GhanaPay Mobile Money Advantage
GhanaPay Mobile Money's fundamental advantage lies in the fact that it is a shared service offered by many financial institutions in Ghana. Aside from the benefits that comes with GhanaPay's association with multiple financial service providers, GhanaPay customers also enjoy the following benefits:
All transactions on GhanaPay Mobile Money are FREE.
GhanaPay Mobile Money customers can perform all mobile money transactions (Ghanapay to GhanaPay, GhanaPay to other Mobile money networks, GhanaPay to any bank account, Bank account to GhanaPay wallets, GhanaPay to e-zwich and vice versa, GhQR payments).
GhanaPay Mobile Money customers can perform cash-in and cash-out services at any bank branch in Ghana for free.
Customers can also perform cash in and cash-out at agent locations. Cash-out at agent locations is 50% cheaper compared to others.
Customers can request their statement of account instantly for free.
GhanaPay can be used to buy airtime and data from all networks.
GhanaPay customers earn the statutory mobile money interest in addition to interest that can be earned on the GhanaPay Savings Wallet.
How do I register for GhanaPay Mobile Money?
Customers who are interested in registering for a GhanaPay mobile money wallet will need to have a registered mobile phone number from any mobile network operator and a Ghana Card. Registration can be done through any of the under listed processes:
Self-Registration via USSD (*707#): Dial *707#, provide your personal information, choose a bank, and visit the selected bank's branch to validate your Ghana Card for completion of registration. An SMS confirmation will be sent once registration is successful.
Self-Registration via GhanaPay Mobile Money App: Download the GhanaPay mobile Money App from the app store, enter your details, select a bank, provide your biodata, and create a PIN to complete the registration. An SMS confirmation will be sent to validate your registration.
Bank Branch Registration: Visit any bank branch of your choice and request registration for a GhanaPay mobile money wallet. Submit your personal details along with your Ghana Card. Once the process is completed, an SMS confirmation will be sent to you.
Designated Agent (Location): Register for a GhanaPay mobile money wallet at designated agent locations with a valid Ghana Card.
GhanaPay Mobile Money is a customer's best bet for accessible, affordable, and user-friendly mobile money service. Its ability to combine the convenience of traditional mobile money and banking services gives customers the 'best of both worlds'. As individuals and businesses explore GhanaPay's features, its role in promoting financial inclusion becomes increasingly apparent. Experience the future of mobile money today by embracing the GhanaPay Mobile Money service. Do more your way with GhanaPay.
GhanaPay Mobile Money, your money, your way!
For more information on GhanaPay Mobile Money, call the GhanaPay toll free number on: 0800-000-707 or visit www.ghipss.com. You can also talk to your bank about GhanaPay Mobile Money.