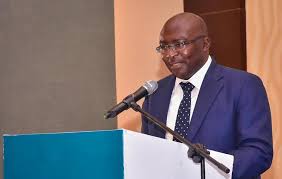 Government has disclosed that it will roll out the mobile money interoperability system in May this year – 2018.
This latest date comes after missing about three initial timelines for the implementation of the policy.
The mobile money interoperability is to allow consumers transfer money across all mobile networks without any restrictions.
This is also in fulfillment of driving a cash lite economy in Ghana.
The Vice President, Dr. Mahamudu Bawumia is confident the policy will help attract more investments and enhance financial inclusion in the country.
"There is a lot of work that has been done and I am happy to say that all things being equal, in May which is in a couple of months' time, we expect to launch Ghana's interoperable system. It is really going to be the vehicle for true interoperability as well as financial inclusion."
"This means that all the mobile companies and all the bank accounts will be interoperable and so we are providing this vehicle for financial inclusion and it will help us also move towards a cashless society," the Vice President added.
The Ghana Interbank and Settlement Systems (GhIPSS) has since been mandated to provide the interoperability platform for the players in the ecosystem.
The contract to GhIPSS came after a botched agreement with Sibton Switch which had earlier agreed to offer the service for some 4.6 billion cedis.
The Vice President for the first time gave the GhIPSS a November 2017 deadline.
This was extended to January 2018.
Subsequently, the CEO of GhIPSS, Archie Hesse admitted to completing all the necessary processes to allow for a takeoff by February 2018.
Dr. Bawumia was speaking at the opening ceremony for the Norway-Ghana Business Forum.
The meeting with some potential investors from Norway also outlined additional plans to attract investors into the country into critical sectors like the oil and gas, agriculture as well as mining industry.
SOURCE: citifmonline.com