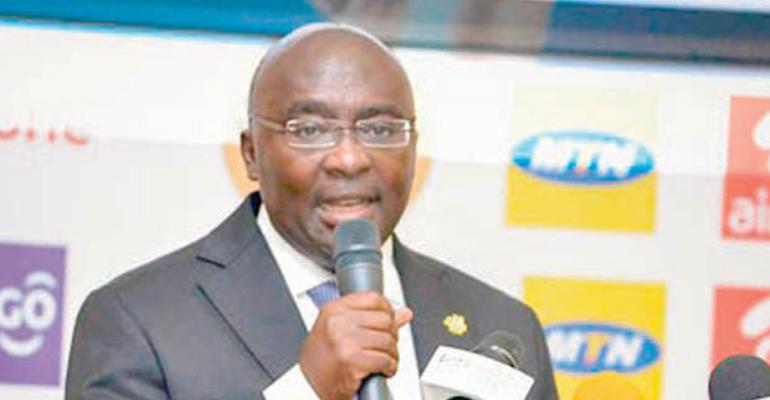 Vice President Dr Mahamadu Bawumia yesterday launched the Mobile Money Payment Interoperability in Accra, paving the way for customers to transfer money from one mobile network to another seamlessly.
They can also transfer money from their mobile money accounts with MTN, Airtel-Tigo or Vodafone to their bank accounts and vice versa.
"This will make Ghana one of the global leaders in the interoperability payments space," an elated Dr Bawumia, who has been championing interoperability since last year, stated.
"It is a historic day for Ghana. We thank God for this day…This singular achievement reinforces President Nana Addo Dankwa Akufo-Addo's belief that with the right conditions and leadership, there is nothing we cannot achieve as a people."
The launch of mobile money payment interoperability system is expected to largely tackle the difficulties associated with traditional banking services, such as high costs associated with maintaining a bank account relative to customers' income levels, the need to have basic record-keeping abilities in order to operate bank accounts and the sheer intimidating nature of banking halls.
Phase Two of the project will complete the Financial Inclusion Triangle by allowing the transfer of monies between telcos, banks and e-Zwich accounts seamlessly.
Upon completion of phase two, customers would be able to move monies from bank accounts to their mobile money accounts.
The eZwich integration is ongoing, and the Central Bank has instructed all banks to complete the integration to allow customers to transfer monies from bank accounts to their mobile money accounts by July 15, this year.
The Vice President challenged financial institutions, telecommunication companies and the financial technologists to find innovative ways of turning mobile phones and the mobile money platform into vehicles of economic emancipation for many players in the huge informal sector.
He also challenged the stakeholders to extend the mobile money interoperability beyond the shores of Ghana.
Dr Bawumia also noted that government would continue to work to ensure a cash-lite economy to help promote efficiency, as well as save a lot of money spent on maintaining notes in Ghana.
"Our next focus is to venture into the cross-border arena so that there will be an effective and efficient payment system to support sub-regional and indeed intra African trade. I know there are smart ICT firms and people in Ghana, and I know you can do it."
Present at the ceremony were Governor of the Bank of Ghana and his two deputies, all deputy Ministers of Communications, Chief Executive of Ghana Interbank Payment and Settlement Systems (GhIPSS), Chief Executives Officer (CEOs) of telecommunication companies and financial technology companies, among others.
SOURCE: ghanaweb