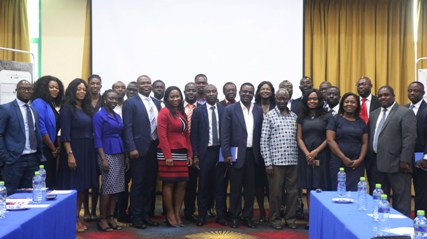 Officials of the Ghana Interbank Payment and Settlement Systems (GhIPSS) have held a day's engagement with finance directors of major companies to explain the workings and benefits of GhIPSS Instant Pay (GIP).
The move is part of efforts to increase public awareness about the GIP.
The GIP is a real time interbank payment platform that enables money to be transferred immediately from one bank account to another. It serves as a payment platform for companies and individuals who need to make instant payments without the need to move physically to the recipient.
Currently over 80 per cent of banks mainly the major ones have integrated their system with the GIP platform. The instant pay service is offered through different channels. Most of the banks offer GIP through their internet banking platform, mobile Apps, as well as automated teller machines (ATMs).
The GIP can also be offered through Point of Sales devices. A number of Fintech companies as well as savings and loans companies have also integrated with the GIP and offering instant pay services to their clients.
The ARB Apex bank on the other hand is in the process of integrating with GIP, which will pave way for rural and community banks to also offer GIP services. Speaking to the participants, the General Manager, Business Development at GhIPSS, Clara Arthur touched on the benefits of GIP, especially for companies who want their clients to make payments to them instantly. She explained that GIP was as good as cash but even more secured.
The finance directors at the engagement admitted that cheques continue to be the dominant mode of payment but said they encountered a number of challenges using them, including dishonored cheques, delays in confirming payments and double debiting of accounts.
Responding to their concerns, the Head of Digitized Payments at GhIPSS, Akosua Blay, said the challenges they face give reasons for them to explore other payment channels such as GIP.
She said though electronic clearing of cheques was one of GhIPSS products, GIP was being promoted as a better alternative for fast payments, stressing that "we need to migrate customers away from cheques".
Officials of some banks, who were also invited to the programme, explained how the GIP is offered to their customers.
They demonstrated a live transfer of funds through GIP and explained how useful it is to the operations of companies. They also urged the companies to use GIP as well as encourage their customers to also use it because it is convenient and instant.
The GhIPSS plans to engage with other stakeholders to drive home the importance and benefits of GIP.
GNA