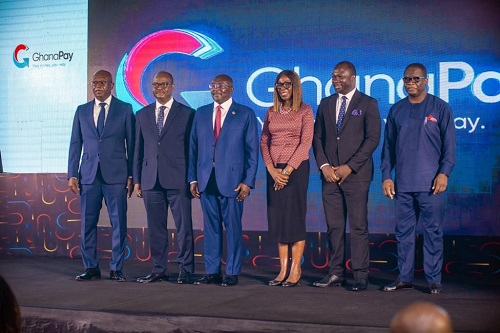 The Ghana Interbank Payment and Settlement Systems (GhIPSS) has collaborated with the Ghana Association of Banks (GAB) for the development and launch of a bank-wide mobile wallet christened GhanaPay. The move is an attempt by the GAB to extend financial inclusion to low KYC customers using existing familiar channel like the mobile wallet solution.
Speaking at the launch of GhanaPay, the CEO of GhIPSS, Mr. Archie Hesse indicated that GhIPSS' collaboration with the GAB stems from the vision and mandate of the company. According to Mr. Hesse, GhIPSS' role require that they collaborate with the financial services industry to provide interoperable payments solutions which will foster financial inclusion. A collaboration with the GAB, was therefore an opportunity for GhIPSS to collaborate on yet another interoperability project for the banking sector. He added that GhIPSS was excited about the partnership and will continue to collaborate with all financial service providers to migrate Ghana to the Cash-lite society it seeks to be.
Also speaking at the event was the Governor of the Central bank of Ghana, Dr. Ernest Addison. He said the launch of the GhanaPay will complement mobile money and banking services, Dr. Addison said GhanaPay is one of such innovations in the financial sector that seeks to address some of the challenges associated with the current bank centric models by providing an open application that leverages on network infrastructure of the entire banking industry. He encouraged the banking sector to collaborate and further explore more pioneering ways to attain greater efficiency in the payments ecosystem.
The Governor congratulated GhIPSS and the banking industry on the development of GhanaPay, According to him, it was a fervent hope that this collaborative spirit will be sustained and enhanced to move the country towards a successful migration to electronic payments and an efficient and effective payment system.
GhanaPay is a mobile money service provided by universal banks, rural banks and savings and loans. Like all existing mobile money services, GhanaPay allows all customers to perform both mobile money and banking services.
Source: GhIPSS